After almost (30) years as an engineer, software developer, executive, and analytics consultant, I knew that I wanted my "next career" to give back in some way. I volunteer and facilitate Financial Peace University, because I feel that bad finances can add a huge stressor to people's lives, but how could I personally "move the needle" in regard to people's health?
I've been an active member of gyms for most of my adult life, and I carry a NASM Personal Training Certification (NASM-CPT). However, I've watched boot camps and personal training sessions happening all around me through the years. And you know what I found?
They rarely were "moving the needle" in regard to client fitness!
My Story
A Journey To The Truth
I saw clients sweat, struggle, frequently use bad body mechanics that begged for injury, and show signs of both chronic fatigue…and defeat. Sure, there are successes, but you could also see the plateaus where the weight stopped coming off, and perhaps the clients stopped booking training sessions and bootcamps when they realized they were throwing well-earned money down a hole. I worried that they simply gave up and "accepted their fate" because that is how they had always been, or their parents had weight/health issues, too.
It drove me to distraction, and it was compounded as I read articles and books…listened to podcasts…and dwelled on accelerating bad health statistics (from the CDC site):
More than 859,000 Americans die of heart disease or stroke every year
Each year in the United States, more than 1.6 million people are diagnosed with cancer, and almost 600,000 die from it
More than 30 million Americans have diabetes, and another 84 million adults in the United States have prediabetes
Obesity affects almost 1 in 5 children and 1 in 3 adults, putting people at risk for chronic diseases such as diabetes, heart disease, and some cancers.
Alzheimer's disease, a type of dementia, is an irreversible, progressive brain disease that affects about 5.7 million Americans.
As I was struggling to find a way to personally make a difference, my kids said they were trying out a "Keto" diet. I had never heard of keto, so…I started reading (luckily, it is a favorite past time for me). I read a couple keto books before coming across the Keto Reset Diet. It intrigued me so much, especially as it talked about becoming a fat burning beast, that I read Primal Endurance…and then the Primal Blueprint. It all started making sense.
And I found my answer on how I could "move the needle"! I wasn't just going to become a personal trainer – although I saw the importance in pursuing and achieving NASM Certified Personal Trainer (NASM-CPT) – I was also going to become a Primal Health Coach. I would be able to look at the whole person standing before me as a client: their exercise, but also their nutrition and lifestyle choices.
But why would someone choose me as a coach? I didn't have any big transformation in my own life – I've been an athlete my whole life, and I've played competitive high school football, lifted my entire life, achieved shodan in judo, and still play tennis at a competitive 4.5 level. I don't have a story – or, do I?
It turns out, I had been putting the Primal principles (from those three books I read) into practice in my own N=1 experiment for several months. I originally did it so that I would not "bonk" on longer runs. However, that was only the beginning of my personal transformation:
My weight went from my normal range of 178 – 183 lbs…maybe 186 during the Thanksgiving/Christmas season…to 163 lbs.
My waist went from 34" jeans to loose 30" jeans
My bloodwork improved across the board (triglycerides/HDL better than 1:1, HbA1C, c-reactive protein, and vitamin D all in stellar range)
My fat burning rate increased 300-500% depending upon the heart rate zone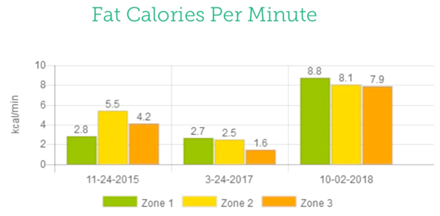 I now feel that I have the passion, the knowledge from two intensive certification processes – Primal Health Coach certification and NASM-CPT – and the personal transformative experience to truly help clients move their own needles towards their version of optimum health and longevity.
Here are the types of clients I feel I can best serve:
the aging athletes and moms/dads that are wondering "how did I get here" in regard to bad health and pending chronic diseases evidenced by bad blood work and waist lines.
the "never been an athlete" who is tired of treadmills to nowhere and tired of throwing money down a hole to be stuck on a weight plateau as they drag themselves to and from the gym
the 35-55 year old with a firm desire and willingness to invoke discipline to change their lives as it relates to exercise, nutrition, and lifestyle.
The work will not be as hard as what you've probably already tried…but the discipline may be harder.
Are you ready to apply that discipline, and maybe some "enough is enough" attitude, to take your own Primal journey to optimal health? If so, book a Discovery Call with me…and let's see if we can make a difference together. Move that needle…