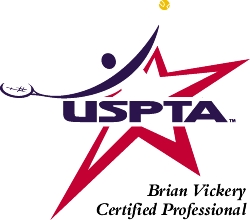 Tennis Lessons should be accessible…and affordable!
I apply 30+ years experience playing tennis, along with a USPTA Tennis Professional certification, to improve clients' tennis games.
✓ I will impart a love for this lifetime sport with enthusiasm and skillful teaching that "meets you where you are" and maps a strategy for improving your game.
✓ We will not only work on stroke fundamentals, but also stroke patterns, tactics based upon game and set scores, and evaluating opponents for strengths and weaknesses.
✓ Almost every session includes groundstroke and volley drills (sometimes using teaching aides like the Topspin Pro) and finally serve/return practice. We also drill down into your individual goals.
Do you want to learn a topspin lob or topspin serve?
How do you "open up the court" and dictate play?
What does it mean to chip and charge?
✓ Periodically, I will video the practice sessions to better analyze your stroke fundamentals. 
My tennis clientele includes teens as well as adult beginners (through USTA 3.5/4.0 ratings) looking to learn this lifetime sport.
Note: I am a Topspin Pro Ambassador, so Topspin Pro URLs are affiliate links.
What Clients Are Saying – Testimonials
Bernadine S. - September 15, 2021
My brothers and I did week-long immersive tennis lessons when we were visiting Denver. We started from basically zero and were hitting comfortably by the end. Brian did a great job walking us through fundamentals and different strokes with great energy! We learned a lot and enjoyed our lessons!
Jaswini V. - August 28, 2021
Our 8 year old son has been taking lessons from Brian once a week for the last 8 weeks and he has learned quite a bit. Brian uses age appropriate coaching techniques that our son is able to easily pickup (serving a pie, drawing a C and so on). He has learned how to hit top spin forehand, top spin backhand, serving, slicing etc, but most of all, he is enjoying the game! Brian is a great coach and we highly recommend him!
Deepak W. - August 1, 2021
Brian was referred to us by friends of ours and has done a great job coaching my 2 boys over this summer. My boys have thoroughly enjoyed his sessions and have become more confident in their game. They realize how Brian has helped improve their game and look forward to their lessons each week. I highly recommend him.
Chaitanya M. - July 17, 2021
Brian has been an excellent, methodical coach. Haven't played a lot of tennis before, I was looking to dive head first, and get a lot of fundamentals down as fast as I could, and that is exactly what I got. Brian does a great job of understanding what I was looking to get out of these sessions and has tailored my sessions accordingly.
As someone who played badminton competitively, I wasn't sure how my skills would transfer to another racket sport. Brian highlighted the parts of my game that would benefit from my prior experience as well as things I needed to change. We've covered different types of serves, backhands, top spins, slices, serve & volley. It's been a great experience, and I recommend Brian highly!
Kristine P. - July 7, 2021
My two daughters took tennis lessons with Brian and this was their first time having private tennis lessons. It was amazing, he was very thorough in only 6 lessons. They learned a lot and look like they can play tennis now. I highly recommend Brian.
Nandakumar - July 6, 2021
I highly recommend Brian! My daughter is very happy to get trained under Brian as she was able to learn a lot from Brian in 1 month than from her previous tennis club in 1 yr. My daughter feels more confident about tennis and enjoys her session with Brian. We are very pleased with Brian's coaching.
Jeanne M. - July 2, 2021
This is the most fun I have had in a long time! Brian keyed in to just what I needed to improve my game and become more competitive. He is so personable and helped me reach my goal. He sent me prompt texts, worked with me to get extra lessons in and just made it fun. Very skilled and skilled at teaching also. 
Lauren S. - June 14, 2021
Brian has done a great job working with my 12 and 14 year old kids who are brand new to tennis! He's patient with them, but keeps them motivated to improve. They look forward to lessons, and they're improving with each one. We've been really pleased!
Baga P. - June 10, 2021
I HIGHLY RECOMMEND Brian… Brian is an AMAZING coach in every aspect. Excellent teaching techniques for kids to learn easily. My 12 year old son Brahan enjoying every moment in tennis court with Brian.
He is providing many tools to have his classes that helps kids to learn faster and easy.
My son is making so much progress.. 
Christina B. - June 5, 2021
Brian started teaching my 11 year old son private tennis lessons a couple of weeks ago. I believe, that he has a way to connect with kids that really helps to keep them motivated. Brian focuses a lot on the right technique. You can tell that he truly enjoys teaching kids!
We are so lucky to have found him!
Nani T. - June 2, 2021
I'm enjoying Brian's tennis lesson! He is great! I'm improving my forehand and still working on backhand.
Chad M. - May 8, 2021
Brian does a great job with my 10-year old beginner. He tailors the lessons to his skill level and has helped him improve. 
Connie N. - May 4, 2021
Brian is the perfect coach for my 12 year old son. He is very patient with him, makes lessons fun, and is teaching him great skills.
Anthony O. - April 29, 2021
Brian is a Very experienced, and a patient instructor who is very passionate about the game of tennis.
Alex P. - April 24, 2021
Brian is wonderful tennis instructor. He provides thoughtful instructions with clear demonstrations and constructive feedback. He is very friendly and genuinely loves helping others become better tennis players. Would recommend to anyone looking to improve their tennis game. 
Vineeta M. - April 24, 2021
Brian is a wonderful coach. He has helped my son to become a better player by working on his basics. My son loves the coaching sessions he has with Brian and he has become a more confident player. I would highly recommend him!
Alex H. - April 19, 2021
Brian is an amazing coach! Detail oriented, positive, knowledgeable and fun to work with. Literally changed my entire game in just a few sessions.
Rajesh - March 8, 2021
Amazing coach. I strongly recommend Brian for any level of coaching. 
Yazan M. - March 7, 2021
Brian is a fantastic coach! It has been amazing how he has improved my tennis in such a short span of time. His method of teaching is highly effective and unique. You can see how passionate and knowledgeable Brian is in tennis, and that has made lessons very enjoyable. He has the focus, knowledge and skills to motivate you to the next level. Coach Brian taught me different stroke fundamentals that made it easy to remember (hammer vs razor, windshield wiper, "carve the ball", etc). He covers a lot of the fundamentals in each lesson (mini-tennis, volleys, ground strokes, serve). Very pleased with off court organization and communication. Overall, very pleasant experience. Highly recommended.
Premjith V. - February 24, 2021
My daughter has been taking tennis lessons from Brian for over 6 months. She loves the classes. It is very easy to schedule lessons using the website. Brian always reaches the court ahead of the scheduled class time and stays after the class explaining what they practiced today and how she did it He gives some practice tips for back home as we. Brian is also a health coach so I always have great conversations on food, exercise with him. I strongly recommend Brian. He cares for his student's progress overall health and learning.
Tennis Coaching – Areas Of Focus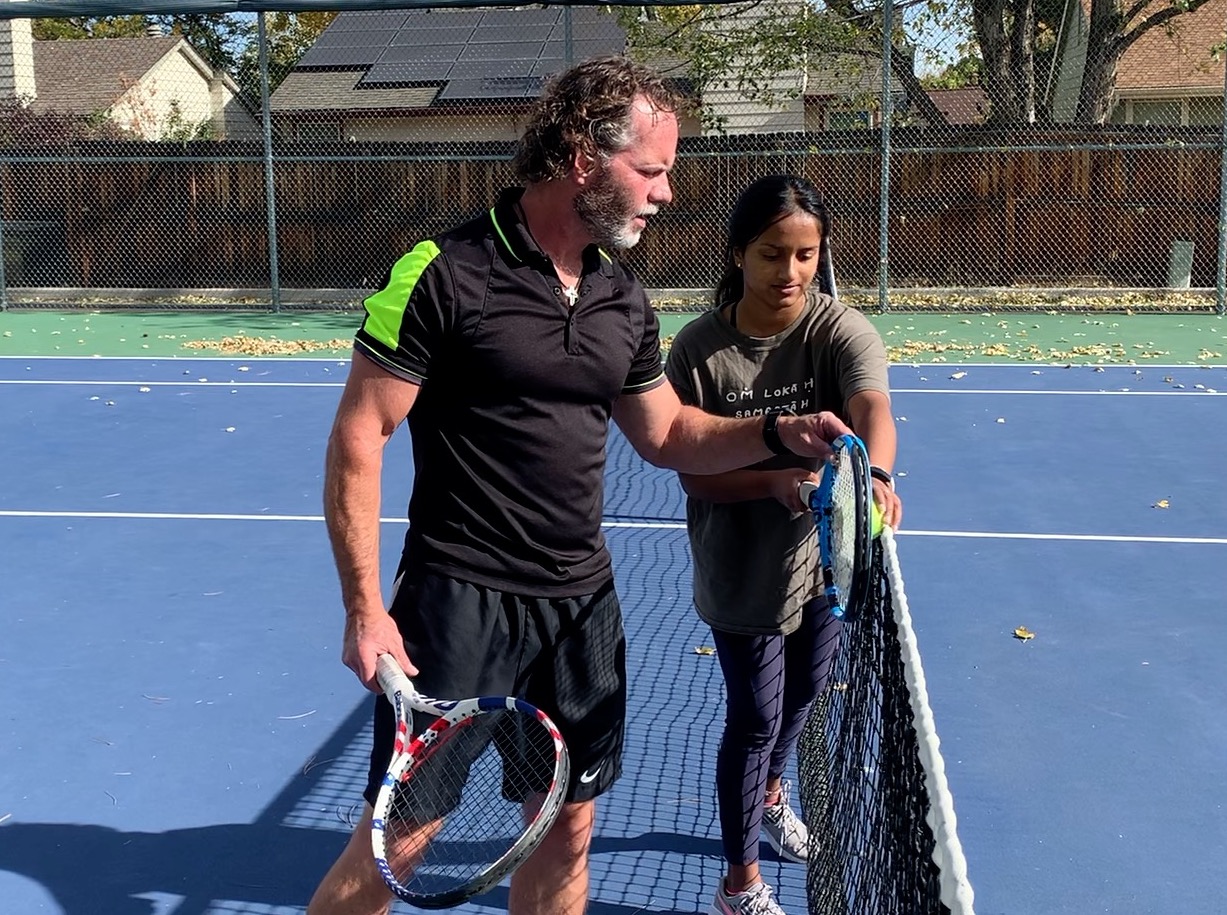 My journey to become a tennis pro
Delayed Dream Come True
When I was in my 20's, I dreamed that my 2nd career would be as a tennis teaching pro. Three decades later – and three shoulder surgeries later – I pretty much put that dream aside even though I taught other sports (judo, taekwondo, soccer) and pursued certifications in health coaching and personal training.
In 2020, an ex-coworker saw me playing a 4.5 men's league match…where we did quite well. He asked if I would consider coaching his kids. I said I would – I love to teach – but I wasn't certified. He didn't care, and thus my tennis coaching career began.
As I grew my business, mostly through enthusiastic referrals from satisfied clients, it prompted me to pursue formal USPTA tennis professional certification. I thought it was a long-shot just a couple weeks before my 53rd birthday, but I practiced…drilled like crazy with teammates and a great teaching pro…tested…and passed!
So now I have official certification, but this is my 2nd career…my passion project. I want to keep lessons accessible and affordable, so you can find me on neighborhood and public courts throughout south Denver.
Sign up for lessons and allow me to enthusiastically teach you (and your friends and family) this lifetime sport!
You found me, so…
How I Can Help
Too often, I see new tennis players go out to a tennis court with three balls – and zero guidance. They spend most of their time chasing balls on other courts – or over the fences – and then go home frustrated.
Just a few lessons could change their learning trajectory and excitement for learning this lifelong sport.
Have you never swung a tennis racquet? 
Do all of your balls go over the fence? 
Do you lose matches because you keep double-faulting? 
Does your kid want to learn tennis, but you do not know where to begin?
Does your kid not get enough personalized coaching in high school to ever improve their game enough to advance in ranking?
Let me help you!
You found me – now how can I be of service?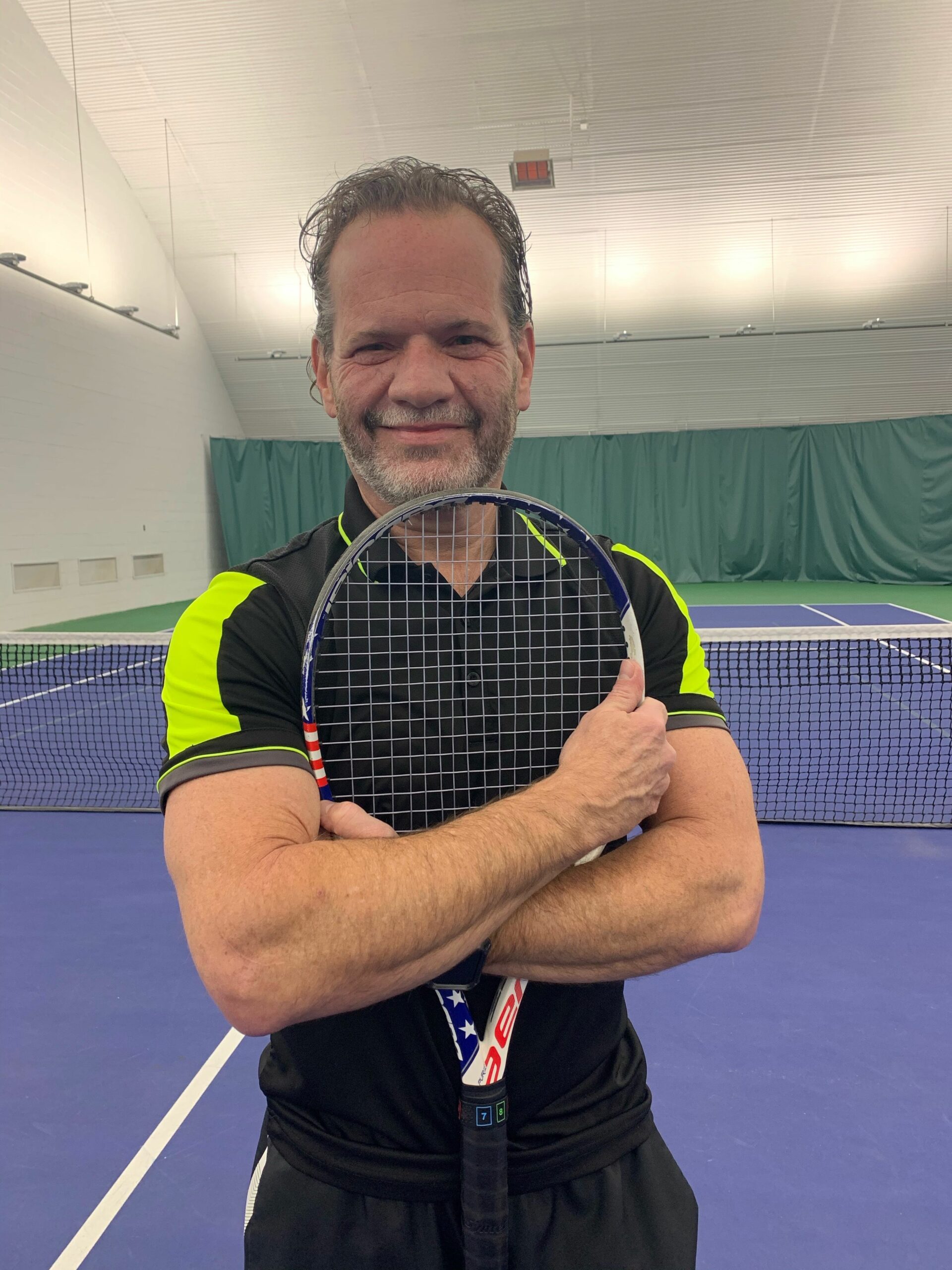 TENNIS LESSON - PRIVATE
This is a 1-hour session teaching stroke fundamentals, improving mental strength, and developing situational awareness (stroke patterns, evaluating opponents for strengths and weaknesses, etc).

NOTE: Price includes a facility fee for using South Suburban courts. A list of South Suburban courts will be in confirmation email. A discounted rate of $40/hr is available if teaching on available neighborhood courts,
TENNIS LESSON - DUO
This is a 1-hour session, for you and your partner, teaching stroke fundamentals, improving mental strength, and developing situational awareness (stroke patterns, evaluating opponents for strengths and weaknesses, etc).
NOTE: Price includes a facility fee for using South Suburban courts. A list of South Suburban courts will be in confirmation email. A discounted rate of $50/hr is available if teaching on available neighborhood courts,
TENNIS LESSON - THREE AND A PRO
This is a 1-hour session, for you and two other players, teaching stroke fundamentals, improving mental strength, and developing situational awareness (stroke patterns, evaluating opponents for strengths and weaknesses, etc).
NOTE: Price includes a facility fee for using South Suburban courts. A list of South Suburban courts will be in confirmation email. A discounted rate of $60/hr is available if teaching on available neighborhood courts,
TENNIS LESSON - FOUR AND A PRO
This is a 1-hour session, for you and three other players, teaching stroke fundamentals, improving mental strength, and developing situational awareness (stroke patterns, evaluating opponents for strengths and weaknesses, etc).
NOTE: Price includes a facility fee for using South Suburban courts. A list of South Suburban courts will be in confirmation email. A discounted rate of $60/hr is available if teaching on available neighborhood courts,