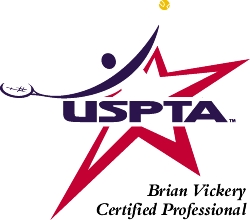 Tennis Lessons should be accessible…and affordable!
I apply 30+ years experience playing tennis, along with a USPTA Tennis Professional certification, to improve clients' tennis games.
✓ I will impart a love for this lifetime sport with enthusiasm and skillful teaching that "meets you where you are" and maps a strategy for improving your game.
✓ We will not only work on stroke fundamentals, but also stroke patterns, tactics based upon game and set scores, and evaluating opponents for strengths and weaknesses.
✓ Almost every session includes groundstroke and volley drills (sometimes using teaching aides like the Topspin Pro) and finally serve/return practice. We also drill down into your individual goals.
Do you want to learn a topspin lob or topspin serve?
How do you "open up the court" and dictate play?
What does it mean to chip and charge?
✓ Periodically, I will video the practice sessions to better analyze your stroke fundamentals.
My tennis clientele includes teens as well as adult beginners (through USTA 3.5/4.0 ratings) looking to learn this lifetime sport. And check out Coach Krista if you have 13-and-under kids. She teaches with the red, orange, green dot balls as well as working with adult beginners.
Note: I am a Topspin Pro Ambassador, so Topspin Pro URLs are affiliate links.
What Clients Are Saying – Testimonials
Ravi G. - September 18, 2023
I took six 1 hour private lessons with Brian Vickery, and I was incredibly impressed. Brian's enthusiasm, attention to detail, and knack for simplifying complex tennis concepts made the experience exceptional. He's not just a tennis coach; he truly understands his students and tailors his coaching to their needs.
What stood out was his commitment to helping me improve. He even arranged for some of his other students to play with me so he could provide personalized coaching. Brian's passion for tennis is inspirational. If you're serious about improving your game, Brian is the coach you need. Just be ready to match his energy and enthusiasm, and you'll get more than your money's worth.
Thanks Brian!
Adri D. - August 24, 2023
My son started taking weekly lessons from Brian the summer before his junior year. He had only been playing a few years and was looking to level up his game before the high school season started.
Brian helped him refine his entire game and especially helped him improve his serve. We did a lesson with the video analysis and it was really helpful for my son to objectively see his strengths and weaknesses.
We will definitely return for lessons once the high school season is over. Thanks, Brian!
Cathy C. - July 21, 2023
My son started lessons with Brian after his first high school season ended. He has improved immensely in a short amount of time! 
My son looks forward to his lessons, which in itself means a lot. Brian has been patient, knowledgeable, extremely helpful and motivating for my teen. Brian keeps him engaged and learning during his lessons, all while still having fun! 
I highly recommend Brian for anyone looking to take their game to the next level. Thanks to Brian, my son is well prepared for his next high school season! "
Thanks, Cathy C
Kim H. - August 1, 2023
My son has been playing competitive tennis for seven years and loves playing this sport. When we heard about Brian and the video analysis, we were intrigued and curious as to what the video was. We booked a 90 minute session with video analysis.
My son had the best time working with Brian. Brian was very thorough with the video analysis. We got to see all aspects of my sons tennis game. From forehands, to backhands, serves, volleys, and points. The stats that we received from the video analysis has helped my son elevate his game to the next level. From speed of ball, placement of ball, and spin on the ball. This video will come in handy during his high school season.
The analysis we got from Brian was great! Brian pointed out great things about my son's tennis game and things that he can improve on. Brian even took the time to find videos of Pro players to reference. I highly recommend the video analysis. We look forward to working with Brian in the future.
Tae & Aaron K. - May 7, 2023
My husband and I recently started taking tennis lessons with Brian, and we couldn't be happier with the experience. He is incredibly efficient and knowledgeable, and he was able to teach us very quickly. Brian is patient and kind, and he tailors his teaching to our individual needs and skill levels. He has helped us improve our technique and strategy, and we have seen significant progress since we started working with him. I would highly recommend Brian to anyone looking for a skilled and experienced tennis coach.
Thank you, Brian, for your expertise and dedication!
Tae and Aaron K
Annie L. - June 30, 2023
The boys said they learned as much in that one hour with you than they had the whole tennis season last year!! You've got a great gift and skill of teaching in a way that clicks. They're so grateful!!
Jagan A. - September 9, 2022
I started taking classes for my elder daughter with Brian for 1 year. His methodology and techniques interested me a lot and I ended up enrolling for my younger daughter and myself.
With just 4 months into my training, I see a sea difference in my game. Brian is a keen observer and shares regular feedback on individual's game that helps immensely in improving the game.
He is very professional and punctual as well which helps in planning. Overall he is the best and I am very happy to have found him and to be trained by him.
Emma W. - April 3, 2023
Wanted to send a quick note of recommendation about your coaching!!  Emma had lessons for a few years with another coach and still did not have the right form nor the ability to hit back in forth. 
Fast forward a few months with Coach Brian and she has great form and confidence to hit back and forth.   As a parent, it is great to see progression in a short amount of time. Coach can coach and make it fun.
Emma's goal is to play for her high school in 2 years. With Coach's help she will be ready to compete and be successful. We are grateful that we found Coach Brian.
Tucker (parent)
Elyce L. - September 9, 2022
Working with Brian has been such a fun and rewarding experience! I had played tennis years ago in high school and, after only a few lessons, Brian has taught me updated grips, swings, and strategies to get me back into the sport. He teaches in a way that is easy to adopt and remember so that each lesson builds upon the next. Whether you are just starting out or have experience from way back when, I highly recommend working with Brian to reach all your tennis goals.
Owen P. - November 30, 2022
I'm twelve years old and I've been playing tennis since I was five. I've been taking lessons from Brian for the past nine months and I couldn't have been more happy with how it's gone.
Brian is passionate and fun to work with, he is easy going yet serious about my lessons.I am always excited to have lessons with him because of how he makes tennis exciting. I've made my biggest improvements during my time with him. He has taught me a topspin and slice serve and I can do them consistently. He has also taught me how to do slices and improved my topspin groundstrokes. Thru Brian I've met other players to practice and play tennis with.
I would recommend Brian to people who are just getting into tennis or who want to improve their skills. He is a fantastic coach!
Don P. - July 28, 2022
Brian is an awesome instructor. His teaching skills coupled with the amount of actual hitting you get to do during one of his lessons makes for a fantastic experience, I felt much more confident in my ability after a single lesson
Emily W. - December 4, 2022
Marty and I are grateful for all your help working with Emily on her tennis. She is outside your targeted demographic, but you took her on anyway, and we thank you for that. Just a few months ago we were in a situation that left us feeling a little panicked about how to keep Emily in tennis. She enjoys it a lot and we want to keep her in this lifelong sport. Then we found you and Krista, and we couldn't be happier about it. Not only have you kept Emily in the game (pun intended), but you've helped her better her game, break old habits formed from past coaches, and improve her technique in a tremendous way.
Your coaching methods are superb. We can see this through Emily's improvement in the sport and the way you communicate to Marty and me. Your ability to relate to people in all levels of tennis is highly respected. Thank you from the depths of our hearts for everything you do for all your clients. Not only does this include coaching, but also sending reference materials to improve technique, sales at local stores, advice on racquets and tips on practicing outside of lessons. 
Clients have a great deal of respect for you because of your practical teaching methods and excellent work ethic. It's easy to see that you truly care about each and every student.
Thank you! We highly recommend you to anyone looking for excellent tennis coaching. You're the best!
Varun D. - September 8, 2022
Brian is an amazing coach. He reads your game fully, knows what your strengths and weaknesses are, and guides accordingly. Brian helped me immensely to adjust my grip and correct certain shots. Some of the techniques he has shown have indeed reduced the burden on my body and helped me be more efficient. His encouraging words lift you up at times when you have a bad day. And yes, hats off to his discipline and energy. I'm very happy that I get to learn something new every time and I'm enjoying this game thanks to the mentoring by Brian.
Chase C. - June 14, 2022
Coach Brian is a crazy good coach. I've never seen what he coaches before – no one has ever taught me like that.
I can't wait to see my progress by the end of the summer. I highly recommend him!
Spencer S. - July 26, 2022
Thanks to Brian, in just a couple sessions he was able to turn two no-form "players" into two people who can actually play without injuring themselves. He's great! Kind. Patient. Knowledgeable. Couldn't have been better for us.
Mike G. - July 26, 2022
At age 57 I forgot all about playing tennis and how much I use to love it. With Brian coaching and teaching me the proper techniques, I now love the game again and I plan to play into my senior years
Brynne B. - July 25, 2022
Played competitively over 20 years ago. Brian changed my grip and taught me a few new techniques during the first lesson. These changes gave me more power as well as a renewed confidence to play the game I love! All thanks to Brian!
Teresa S. - August 1, 2022
I'm pleasantly surprised and impressed by how much Brian has taught me in just a few lessons.  I started with absolutely zero tennis experience (or any other sport for that matter), and Brian quickly and comprehensively taught me the fundamentals.  Even though I'm sure that I'm a bit of a coaching challenge, Brian is very patient and good-humored.  Bonus, I signed up for "duo" lessons with a friend, and lessons are a lot of fun!
Patrick G. - July 25, 2022
Brian is a one of a kind tennis coach whose patience and coaching abilities have brought me from holding a racket to winning my tennis league division in a couple months. His expertise has brought my game to a whole new level.
Seeking a coach, look no further!
Hossein N. - March 22, 2022
Brian is a very patient and at the same time knowledgable instructor with passion for tennis. Would highly recommend him.
Ashutosh C. - April 3, 2022
My son has been training with Brian for 2 months and started as a beginner. Brian makes learning fun, instills strong technique, and really tailors the lessons to the individual and their skills. He focuses on overall fitness, form and technique.
Brian has a real skill in observing exactly what your mistakes are, even if you don't know, and drills you on the basics; He is relentless in reminding you what you are doing wrong and praising you on what you're doing right. Scheduling has been easy and he is accommodating of last minute changes.
Brian has options for both indoors and outdoors hence weather does not stop the lessons and training.
Catherine P. - October 18, 2021
Brian is extremely knowledgeable about tennis and technique in tennis, but more importantly, he is a great teacher. He cares about his students immensely and desires to see them improve. Dependable and organized. Highly recommend!
Reba B. - September 29, 2021
Brian was, and is, an excellent instructor, teacher, and coach. I am extremely hard on myself, but I can say that I have REALLY improved. I have a lot of hangups still, but I know what I should be working on. I really appreciated Brian's teaching/coaching methods and his patience. I am a bit clumsy and uncoordinated, which made for a few good laughs, and I am stubborn, so he has to repeat himself a few times before I "get" it and do it, so his patience came in handy!
Brian is great and his passion for tennis and for teaching is demonstrated in his approach. Lastly, he is timely, which is another biggie in my book. 
Evan M. - October 8, 2021
Coach Brian has been a great coach to my 11 year old son. He is teaching techniques and footwork to improve my son's game. Brian keeps the lessons fun and challenging at the same time. My son looks forward to his lesson each week and loves to go!
Bernadine S. - September 15, 2021
My brothers and I did week-long immersive tennis lessons when we were visiting Denver. We started from basically zero and were hitting comfortably by the end. Brian did a great job walking us through fundamentals and different strokes with great energy! We learned a lot and enjoyed our lessons!
Deepak W. - August 1, 2021
Brian was referred to us by friends of ours and has done a great job coaching my 2 boys over this summer. My boys have thoroughly enjoyed his sessions and have become more confident in their game. They realize how Brian has helped improve their game and look forward to their lessons each week. I highly recommend him.
Edmund S. - September 20, 2021
I took my first series of tennis lessons with Brian this September and I had a great time. Brian was thorough, methodical, and organized. I appreciated the thoughtfulness that he brought to each lesson as well as the preparation he had to help my siblings and I make the most of our time with him. More than that, he brought great spirit to each of our lessons and his love of the game was clear. It was infectious and I am keen to build off the basics that he showed me. 
Kristine P. - July 7, 2021
My two daughters took tennis lessons with Brian and this was their first time having private tennis lessons. It was amazing, he was very thorough in only 6 lessons. They learned a lot and look like they can play tennis now. I highly recommend Brian.
Jaswini V. - August 28, 2021
Our 8 year old son has been taking lessons from Brian once a week for the last 8 weeks and he has learned quite a bit. Brian uses age appropriate coaching techniques that our son is able to easily pickup (serving a pie, drawing a C and so on). He has learned how to hit top spin forehand, top spin backhand, serving, slicing etc, but most of all, he is enjoying the game! Brian is a great coach and we highly recommend him!
Chaitanya M. - July 17, 2021
Brian has been an excellent, methodical coach. Haven't played a lot of tennis before, I was looking to dive head first, and get a lot of fundamentals down as fast as I could, and that is exactly what I got. Brian does a great job of understanding what I was looking to get out of these sessions and has tailored my sessions accordingly.
As someone who played badminton competitively, I wasn't sure how my skills would transfer to another racket sport. Brian highlighted the parts of my game that would benefit from my prior experience as well as things I needed to change. We've covered different types of serves, backhands, top spins, slices, serve & volley. It's been a great experience, and I recommend Brian highly!
Jeanne M. - July 2, 2021
This is the most fun I have had in a long time! Brian keyed in to just what I needed to improve my game and become more competitive. He is so personable and helped me reach my goal. He sent me prompt texts, worked with me to get extra lessons in and just made it fun. Very skilled and skilled at teaching also. 
Nandakumar - July 6, 2021
I highly recommend Brian! My daughter is very happy to get trained under Brian as she was able to learn a lot from Brian in 1 month than from her previous tennis club in 1 yr. My daughter feels more confident about tennis and enjoys her session with Brian. We are very pleased with Brian's coaching.
Baga P. - June 10, 2021
I HIGHLY RECOMMEND Brian… Brian is an AMAZING coach in every aspect. Excellent teaching techniques for kids to learn easily. My 12 year old son Brahan enjoying every moment in tennis court with Brian.
He is providing many tools to have his classes that helps kids to learn faster and easy.
My son is making so much progress.. 
Lauren S. - June 14, 2021
Brian has done a great job working with my 12 and 14 year old kids who are brand new to tennis! He's patient with them, but keeps them motivated to improve. They look forward to lessons, and they're improving with each one. We've been really pleased!
Christina B. - June 5, 2021
Brian started teaching my 11 year old son private tennis lessons a couple of weeks ago. I believe, that he has a way to connect with kids that really helps to keep them motivated. Brian focuses a lot on the right technique. You can tell that he truly enjoys teaching kids!
We are so lucky to have found him!
Nani T. - June 2, 2021
I'm enjoying Brian's tennis lesson! He is great! I'm improving my forehand and still working on backhand.
Chad M. - May 8, 2021
Brian does a great job with my 10-year old beginner. He tailors the lessons to his skill level and has helped him improve. 
Connie N. - May 4, 2021
Brian is the perfect coach for my 12 year old son. He is very patient with him, makes lessons fun, and is teaching him great skills.
Anthony O. - April 29, 2021
Brian is a Very experienced, and a patient instructor who is very passionate about the game of tennis.
Alex P. - April 24, 2021
Brian is wonderful tennis instructor. He provides thoughtful instructions with clear demonstrations and constructive feedback. He is very friendly and genuinely loves helping others become better tennis players. Would recommend to anyone looking to improve their tennis game. 
Vineeta M. - April 24, 2021
Brian is a wonderful coach. He has helped my son to become a better player by working on his basics. My son loves the coaching sessions he has with Brian and he has become a more confident player. I would highly recommend him!
Alex H. - April 19, 2021
Brian is an amazing coach! Detail oriented, positive, knowledgeable and fun to work with. Literally changed my entire game in just a few sessions.
Rajesh - March 8, 2021
Amazing coach. I strongly recommend Brian for any level of coaching. 
Premjith V. - February 24, 2021
My daughter has been taking tennis lessons from Brian for over 6 months. She loves the classes. It is very easy to schedule lessons using the website. Brian always reaches the court ahead of the scheduled class time and stays after the class explaining what they practiced today and how she did it He gives some practice tips for back home as we. Brian is also a health coach so I always have great conversations on food, exercise with him. I strongly recommend Brian. He cares for his student's progress overall health and learning.
Yazan M. - March 7, 2021
Brian is a fantastic coach! It has been amazing how he has improved my tennis in such a short span of time. His method of teaching is highly effective and unique. You can see how passionate and knowledgeable Brian is in tennis, and that has made lessons very enjoyable. He has the focus, knowledge and skills to motivate you to the next level. Coach Brian taught me different stroke fundamentals that made it easy to remember (hammer vs razor, windshield wiper, "carve the ball", etc). He covers a lot of the fundamentals in each lesson (mini-tennis, volleys, ground strokes, serve). Very pleased with off court organization and communication. Overall, very pleasant experience. Highly recommended.
Tennis Coaching – Areas Of Focus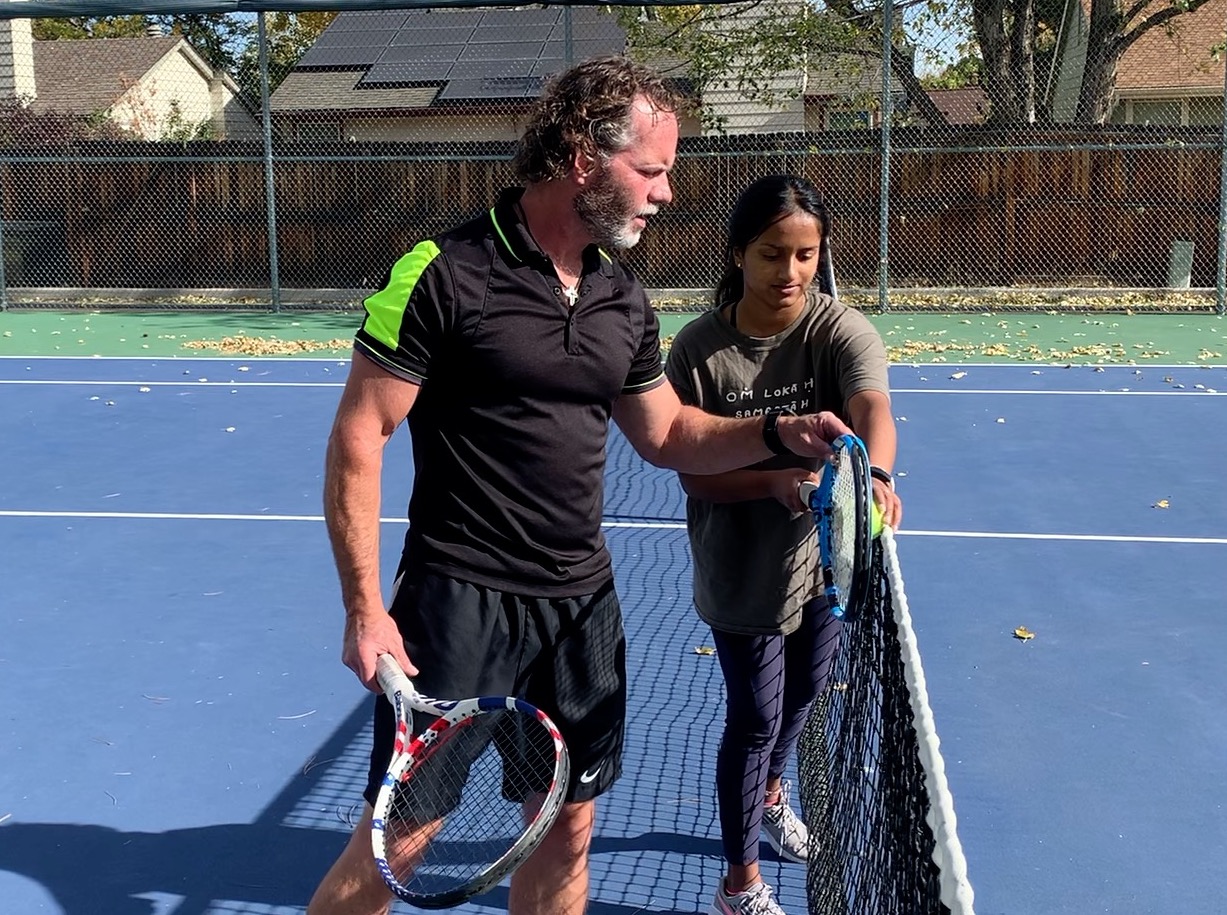 My journey to become a tennis pro
Delayed Dream Come True
When I was in my 20's, I dreamed that my 2nd career would be as a tennis teaching pro. Three decades later – and three shoulder surgeries later – I pretty much put that dream aside even though I taught other sports (judo, taekwondo, soccer) and pursued certifications in health coaching and personal training.
In 2020, an ex-coworker saw me playing a 4.5 men's league match…where we did quite well. He asked if I would consider coaching his kids. I said I would – I love to teach – but I wasn't certified. He didn't care, and thus my tennis coaching career began.
As I grew my business, mostly through enthusiastic referrals from satisfied clients, it prompted me to pursue formal USPTA tennis professional certification. I thought it was a long-shot just a couple weeks before my 53rd birthday, but I practiced…drilled like crazy with teammates and a great teaching pro…tested…and passed!
So now I have official certification, but this is my 2nd career…my passion project. I want to keep lessons accessible and affordable, so you can find me on neighborhood and public courts throughout south Denver.
Sign up for lessons and allow me to enthusiastically teach you (and your friends and family) this lifetime sport!
You found me, so…
How I Can Help
Too often, I see new tennis players go out to a tennis court with three balls – and zero guidance. They spend most of their time chasing balls on other courts – or over the fences – and then go home frustrated.
Just a few lessons could change their learning trajectory and excitement for learning this lifelong sport.
Have you never swung a tennis racquet? 
Do all of your balls go over the fence? 
Do you lose matches because you keep double-faulting? 
Does your kid want to learn tennis, but you do not know where to begin?
Does your kid not get enough personalized coaching in high school to ever improve their game enough to advance in ranking?
Let me help you!
You found me – now how can I be of service?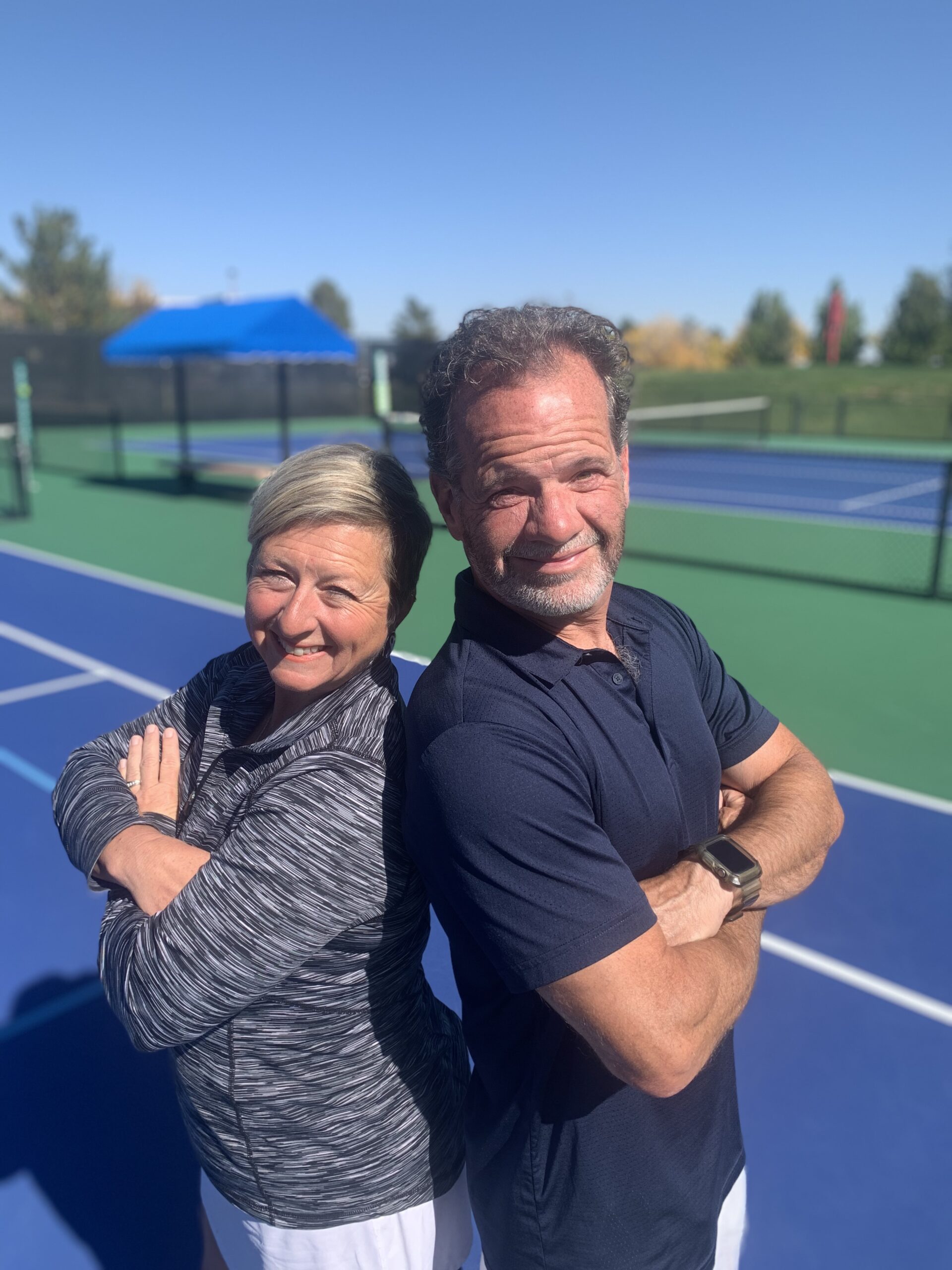 TENNIS LESSON: 1-2 STUDENTS
This is a 1-hour session, for 1-2 students, teaching stroke fundamentals, improving mental strength, and developing situational awareness (stroke patterns, evaluating opponents for strengths and weaknesses, etc).
NOTE: Lesson rate includes facility fees (if applicable). Zelle is free, Venmo has additional $1/transaction.
TENNIS LESSON: 1-2 STUDENTS - 90 MINUTES
This is a 90-minute session, for 1-2 students, teaching stroke fundamentals, improving mental strength, and developing situational awareness (stroke patterns, evaluating opponents for strengths and weaknesses, etc).
NOTE: Lesson rate includes facility fees (if applicable). Zelle is free, Venmo has additional $1/transaction.
TENNIS LESSON: 3-4 STUDENTS
This is a 1-hour session, for 3-4 students, teaching stroke fundamentals, improving mental strength, and developing situational awareness (stroke patterns, evaluating opponents for strengths and weaknesses, etc).
NOTE: Lesson rate includes facility fees (if applicable). Zelle is free, Venmo has additional $1/transaction.
TENNIS LESSON: 6-8 STUDENTS - 90 MINUTES
This is a 90-minute session, for 6-8 students, teaching stroke fundamentals, improving mental strength, and developing situational awareness and tactics/strategy (stroke patterns, evaluating opponents for strengths and weaknesses, etc).
NOTE: Lesson rate includes facility fees (if applicable). Zelle is free, Venmo has additional $1/transaction.